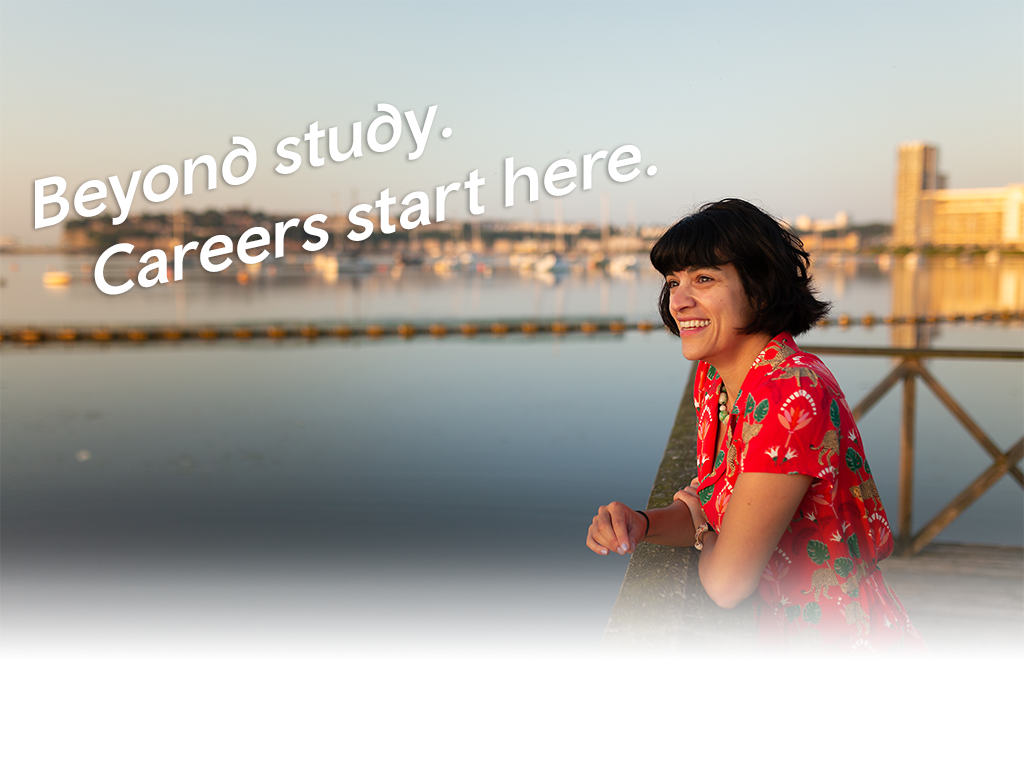 ---
This is Study in Wales.
This is your world of opportunities.
Gain real-world experience whilst you study with vocational training and industry placements across Wales and internationally. Industry links with globally recognised employers mean that the courses at our universities are designed to set you up with the skills you, and employers worldwide are looking for.
From career workshops and counselling to job fairs and employability awards, you'll have the tools and support you need to hit the ground running. Whether you're applying for jobs, looking for work experience, or attending interviews, you'll be prepared for whatever comes next with services tailored to you and your career goals.
With 95% of graduates in employment or further study within 6 months of graduating from one of our world-class universities (a higher proportion than the UK average), you'll graduate with career confidence ready for your next move.
In 2022 and 2023 our institutions have continued to shine across a range of metrics, including student satisfaction, quality of education, sustainability, and career prospects.
---
Ahead of the rest.
Our universities provide a unique and individualised approach to careers, employability and future success – here's just a snapshot of how they'll prepare you for what comes next…
Aberystwyth University lives and breathes careers with its very own Career Fest — a week of skills workshops, employer events, webinars, networking, and in-department sessions to help students enter employment as soon as they leave university.
Bangor University helps students go further with industry partnerships and employability focused learning programmes.
Cardiff University has a team dedicated to helping you find your career. Their Student Futures team offers specialised career support and can help you prepare for life after university.
Cardiff Met gives you the EDGE — Ethical, Digital, Global and Entrepreneurial skills, delivered via its strong links with industry and the profession.
Swansea University gives you career advice and employment opportunities all under one roof via the Swansea Employability Academy. They make sure that your learning and experience exist in tandem leading to a successful graduate career.
USW create graduates who are prepared for whatever tomorrow brings. With employability built into their courses and projects based on working practices and time in the workplace, USW helps students build job-ready skills – preparing them for their careers.
The University of Wales Trinity Saint David has their own online support platform, Enterprise, which is an entrepreneurship-focused service that provides you with industry links, opportunities to discuss and explore business opportunities, and Global Entrepreneurship events.
Wrexham University Careers and Employability Service provides you with expertise, resources and opportunities 24/7 throughASK: Careers and Employability.
Find out more about our universities 
"What I really love about my course is the concept of group seminars. I gain hands-on experience for real events, where groups of students work as consultants for a company and help them with best practices in the market."
Gaurav Choudry
Cardiff Metropolitan University | Msc International Hospitality and Tourism Management
Meet Hayley, an International Relations graduate from Cardiff University. After graduating, she secured an internship with Cardiff University's Student Futures team which gave her the experience and confidence to pursue a career in communications.
"After performing so well, we offered Gareth a full-time role after his internship ended. We are pleased to report that Gareth has not only excelled in this role but has also earned a promotion to editorial executive."
Katie Lowe
Learna Ltd | Medical Education Support
With a focus on education and training opportunities for people aged 16+ further education colleges are at the heart of their communities with excellent links to industry and clear progression routes to universities in Wales and the rest of the UK.
Before you start...
Cookies
Your continued use of this website implies consent for usage of cookies. Our cookie policy.
---
Sign up to our newsletter
Receive all the latest information about studying in Wales, scholarships opportunities, and student advice straight to your inbox!